Nothing looks more unsightly than carpets that are frayed, buckled, dotted with cigarette burn marks or seams that have come apart!
A good clean is also dependent upon a well-fitted carpet. It is important to weigh the cost difference between repairing and replacing your carpets. If repair costs exceed the replacement of a carpet a Carpet Cleaning Association technician will respectfully advise you so.
Carpet Cleaning Association technicians offer a range of specialised solutions to keep your carpets looking and performing at their best. Including:
Patching is not as easy as you may think! It takes the skill of a properly trained technician in order for a patch to blend in with the rest of the carpets and within our membership you will find suitably trained individuals able to effectively deal with these tasks.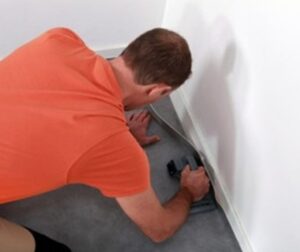 Carpet Stretching Buckles or ripples in carpets are due to 60% poor installation, 30% excessive wear and 10% to damage and age or carpets that have been incorrectly cleaned. Carpets must have good tension within them for a cleaning technician to extract as much soiling as possible from within the carpet face. Again, selected Carpet Cleaning Association members can perform this technical task.
Advanced spot & stain removal techniques may be required to remove difficult stains that arise. These treatments can be successful in removing many of these, where untrained carpet cleaners fail. Carpet Cleaning Association apply the most technically advanced methods to give you the very best possible results. And YES, we have great success with many of those recurring stain problems that are unfortunately common, due to incorrect spotting or cleaning.
Carpet Spot DyeThere are times where a stain cannot be removed without affecting the dyes in the carpet. In other cases, inappropriate chemicals have contacted the carpet fibres, resulting in colour loss. Our trained specialist dye restoration technicians can re-dye these areas to match in with the surrounding areas, providing a cost-effective solution to an otherwise permanent problem.
It is common for carpets to become smelly due to contamination from many sources. Whether you have a simple stale odour that can be rectified by proper cleaning, special problems associated with pets (urine) or other issues. Our technicians are specially qualified and experienced to provide an effective solution to solving any odour issues you may have.
Carpet Water Damage - If carpets are wet and are left without proper restorative drying, permanent damage and unhygienic conditions can result. It is imperative that these problems are dealt with effectively and swiftly. Special skills and knowledge are essential to assess these situations and provide solutions to avoid costly damage and possible adverse health affects. You should call immediately for professional help if you ever find yourself with a water-damage problem to your property.